I'm Arik, and I'm running to represent you in Congress.
I'm asking you for the most precious part of your democratic being:  your vote.
Your vote for Congress will represent a civic partnership with me.  Together, we can head to Washington on a vital mission to provide opportunities and to ensure security for our community, the Second Congressional District of South Carolina.  Also, we can help our District play a vital role in restoring and protecting the American Dream.
I know that in order to earn your vote for Congress, I must earn your trust and respect.  Here is some important information about my background and career to help you make your decision.
I'm a devoted father.  I'm a dedicated public servant.  I'm a community leader.  I'm a writer.  I'm a volunteer.  Most important of all, I'm your SC Congressional District 2 neighbor.
I believe that government and communities must work together in order to build a lasting foundation for Civilization.  "Civilization" might seem like a pretty serious word, but we live in serious times.  From flags to floods, South Carolina has seen its share of trials the past few years.  Yet our shared tragedies have provided a unique opportunity for government and community to triumph together.
2016 is a critical year for SC Congressional District 2.  I am convinced "There's a Better Way"—for our District, for our state, for our nation, for our world.  We won't progress as a society by being liberal or conservative.  We'll achieve success when we provide opportunities and security for all—a goal completely within our reach.
From experience, I understand how government works.  I also know how government doesn't work.  Government works when it efficiently and rigorously links and protects individuals, communities, and industry.
I successfully managed the South Carolina SmartState Program, a $2 billion economic development program that builds knowledge-based research centers at our state's senior research institutions:  Clemson University, Medical University of South Carolina, and University of South Carolina.  The SmartState Program has resulted in the creation of more than 10,000 jobs and major investment by corporate and foundation partners such as BMW, Fluor, Michelin, BASF, and BlueCross BlueShield of South Carolina Foundation.  The Washington Advisory Group called SmartState "a best-in-kind program that is, or should be, the envy of other states."
I also worked for Health Sciences South Carolina (HSSC), the nation's first statewide healthcare research collaboration, which includes as members Clemson, MUSC, and USC, as well as major healthcare systems like Palmetto Health.  One of my proudest achievements at HSSC was co-coordinating a $15 million learning health system grant awarded jointly to South Carolina and North Carolina by The Duke Endowment.
I recently returned to my librarian roots.  President Eisenhower once wrote, "The libraries of America are and must ever remain the home of free, inquiring minds."  I agree wholeheartedly.  I have worked at the American Library Association and several USC libraries.  Presently, I serve my community at Richland Library, which is a 2016 Institute of Museum and Library Services National Medal finalist.  Richland Library is a SC Congressional District 2 civic crown jewel—as are all of the public, academic, and K-12 libraries in our District.
I am also a writer.  My articles and essays have been read in over 190 countries, and I have written several books on subjects from politics to religion—even a short story collection.
I am an outspoken arts advocate.  I have worked to protect government arts funding, and I am the co-founder of the Rosewood Arts Festival—which in just its fifth year has blossomed into a Columbia event calendar staple.
I have an academic background in religious studies, and I am a firm believer in interfaith cooperation.  I also write for the world's largest religion website, Patheos.  I am an ally for a national LGBTQ organization.  And I volunteer for a local children's home and food bank.
I earned a graduate degree in Library Science from USC and a bachelor's degree in Archaeology & Ancient Languages from Wheaton College, Billy Graham's alma mater.
I live in Columbia with my daughter, a second grader who loves all things horses and Harry Potter.  I am also the caretaker for my mom, a retired home healthcare and detox nurse.  (By the way, nurses of all ages deserve our constant admiration!)
Thank you for taking time to learn about my background.  Although you and I may not agree on every issue, I have spent the past decade serving SC Congressional District 2 as a public servant and a dedicated neighbor.  If I earn your partnership commitment—your vote for Congress—I promise to continue working tirelessly on your behalf.  I can't be owned by special interests, because we're going to work openly alongside one another.  That's the Voter-Congressman partnership I can guarantee over the next two years.
Let's partner to provide our community with increased job opportunities and a better quality of life.  Let's partner to keep our community safe, to build peace, and to ensure freedom.  And let's partner to use our resources as wisely and efficiently as possible to the betterment of all.
Your SC Congressional District 2 Neighbor,
Arik
(Click to read Arik's Issues essay, "There's a Better Way.")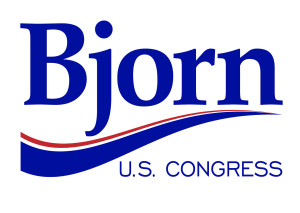 "There's a Better Way!"
Click our campaign logo to return to the home page.